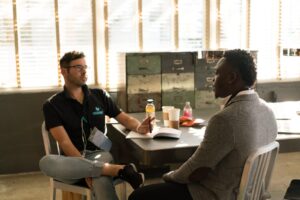 Over the years, a majority of my clients who must go on sick leave, have feelings of shame and embarrassment. The reason for this is that what is common in many workplaces, is criticizing ones who must be on disability.
The insults include that the person is faking it, is not that sick, or should come to work anyway.
This has always been a problem, but it has been exacerbated by the tremendous stress many workers are under, especially during this pandemic. They are exhausted and emotionally drained: completely burned out.
A common theme I have noticed over the past few years, that employers are not replacing employees who have moved on or retired, leaving that extra workload on those remaining.
We know that if we push a machine too far, we can burn out the motor, Humans can burn out too. We are told to take care of ourselves, and to have a healthy work/life balance. For a variety of reasons, this is not possible, and eventually there is a price to be paid.
An individual's reason for being on disability or sick leave is between that person, their medical professional, and their insurance company. No one has the right to ask why, or to judge.
It is simply mean spirited to knock someone when they are down. Worse than that, is when those who need to be off fear what others might think, they may keep pushing themselves to the breaking point.
If a person is suffering from depression or anxiety, the knowledge that there is shaming directed at them in the workplace, is like salt on a wound. It is mean-spirited and bullying behavior.
Similarly, when a boss or supervisor keeps urging the person to hurry back, or complains about how much they need the person there, this is harassment.
A supervisor does not have the right to ask any questions about the person's health once a physician's note has been provided. In fact, there should be not communication from the workplace, including phone calls, emails, or texts.
Yes, the person on leave may be a valued employee, but the employer's needs should never supersede the health and recovery of the one who is off work.
The employee must submit forms from the physician, if leave needs to be extended.
Beyond that, they should be left alone and given time to heal. The most evolved employers or supervisors wish the person well and show caring for their staff's wellbeing.
Medical leave is a very personal and private matter. When the worker returns, it is inappropriate to ask why they were off. The thought of being asked such questions creates huge anxiety long before the person has actually returned to the workplace.
Tell them it is nice to see them again. Demonstrate welcoming behavior, and do not comment on how much work others had to do in their absence. Please, supervisors and employers, do not leave all of the person's work for them to do when they return.
We can do all we can to protect the dignity of ones who may be suffering more than we know, and to conduct ourselves with high levels of integrity. Do unto others…
Copyright © Gwen Randall-Young, All Rights Reserved. Gwen Randall-Young is an author and award-winning psychologist. For permission to reprint this article, or to obtain books, CDs or MP3s, visit www.gwen.ca or follow Gwen on Facebook.