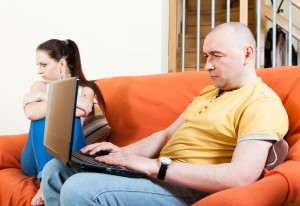 When we speak to another person, they receive two messages. One of the messages is sent in the words we have spoken. The other is in the way the message is delivered. The latter is often the clearest reflection of what is really going on inside of us.
We may snap at someone because we are upset with someone else. The message received by the one at whom we snapped is that we are unhappy with him or her. A partner may try to engage us in a serious conversation, but if we are holding some resentment towards that person, our body language or sarcastic tone will indicate that something is wrong. The problem is that our partner may be confused, thinking our issue is with the subject under discussion.
Ideally, communication is most effective when there is congruence between our words and our nonverbal cues. One aspect of maturity is taking care of our internal emotional environment, so it does not spill over onto others who have nothing to do with it.
When we are having issues with another, we must first consider whether the problem belongs with us, or with the other. We may be sad when our teenager would rather spend Saturday night with friends than with family. However it is likely our problem—our reluctance to accept her development of a life separate from ours—and not something we can lay on her.
If we are snarky when we say goodbye as she leaves, we only succeed in delivering a guilt trip, and she will resent us for that. Far better to own up to our sadness that she is growing up, but to send her off with lots of love.
In order to prevent non-verbal messages from sabotaging our relationships we must first be clear with ourselves about what is going on. Then, we must strive to communicate clearly and directly to others, so there is at least an opportunity to deal openly with whatever we are feeling.
Copyright © Gwen Randall-Young, All Rights Reserved. Contact us if you would like permission to reprint.
CDs You May be Interested In:
Communication in Relationships
Conflict Resolution in Relationships
Trust and Fidelity
Relationship Landmines
Relationship Healing