Gwen, I hear a lot about the imp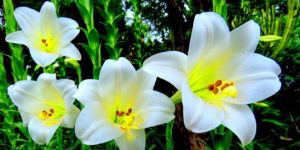 ortance of self-care in the media, but despite making time for weekly pedicures and bubble baths I find myself continually in a state of burnout. Could you suggest some strategies for deeper, more replenishing self-care?
Gwen's Answer:
Do your weekly bubble baths and pedicures come after you have prioritized everyone else's needs and demands? Sustainable self-care starts with boundaries and placing value on your time and energy. If you find yourself continually depleted it is likely that you have put others needs first so often that it is jeopardizing your health. It is imperative that you prioritize time for rest and replenishment daily, even if it is just for minutes at a time.
People often have difficulty with the concept of taking time to relax. They feel they would be wasting time, that they might be considered lazy, and then they feel guilty. The problem here is that then there is no quitting time, it is just go, go, go from morning to night. That is a sure-fire recipe for burnout!
Your most effective survival skill may be the ability to effectively use the word, "NO." Realize your time is a precious commodity, and you must allocate it carefully.
Do not leave your self-care for last, after everything else is done. Instead, have some days where you start with you-time. Yes, it is okay to put yourself first. This is important to do; otherwise, years will go by before you realize you have lived all your life for everyone else.
If your health is being compromised, it is necessary to change your. While bubble baths are a good start, also ensure you exercise, eat nutritious foods, drink plenty of water and get enough sleep.
We need to have balance in our lives. Time working is balanced with time to do nothing, to play, to laugh, to dream, and to truly get to know oneself. Scheduling these are not just about adding self-care into your routine, it is about a change in lifestyle.
Lifestyle changes may take time to implement but are worth the effort. Be gentle and gradual as you begin and I am certain that in time you will find lasting renewal as deep self-nurturance has become a way of life.
To help with the process, I have a hypnotic suggestion recording called Creating Balance In Your Life. Not only will this help you to form new habits, but it is also deeply relaxing. For more information, follow the link below.