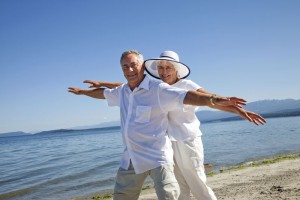 As our parents age there comes a time when the roles reverse. When we were young, our parents cared for us and tried to anticipate our needs. As we got older, they tried to get us to think about, and prepare for our future. Eventually, we find ourselves thinking about them in much the same way.
Unless we have had friends who have gone through this process, we are often not prepared. However, there are some important things to consider, and it is best to discuss these before the actual decisions need to be made.
As they age, we need to talk to them about where they are living, and what they might want if their circumstances change. If one becomes unable to manage stairs, will they try to accommodate the house, or would they move? Would it make more sense to find 'elder-friendly' accommodation while they are still strong enough to make a move?
If one is left a widow or widower, would that one want to remain in the home? Could he or she manage? They might think about relocating now, to a place that would be suitable for one to carry on later. That way, when one passes on, the other will not have the additional trauma of having to move, and get used to a new place.
It is more difficult to talk about their wishes in regards to funeral and burial/cremation. It is important, nonetheless. A lot of heartache among their children can be avoided if parents have given some direction. The same is true for an up-to-date will. If you will be an executor for your parent's estate, you need to have information about accounts and important documents.
We should also check to see if our parents are getting regular medical check-ups, and taking any required medications. As people age, they can become forgetful. They also can be oblivious to subtle changes that could be early signals of serious problems.
It is easy to avoid dealing with some of these issues, as we do not want to think about our parents becoming older, and the eventual loss we will experience. Difficult as it might be, it will be easier on everyone in the long run, if we do not leave our heads in the sand.
Copyright © Gwen Randall-Young, All Rights Reserved. Contact us if you would like permission to reprint.
Related MP3s Available:
Growing Younger
Improving Your Memory
Heal Your Body
Releasing Stress
Empowerment and Healing
Healing the Past